M
anaging minutes and players' roles is not an easy task for NBA coaches. Over the course of a season, some players may drop in and out of the rotation as the coach may opt to go with a preferred lineup. This can certainly stunt a player's growth but nevertheless, with limited playing time and/or a small role on the team, they remain productive and have proven to make contributions to the team. Below is a list of 5 players who could benefit from a larger role or increased playing time.
Taj Gibson (Chicago Bulls)
Minutes per game: 29.2
Taj Gibson has played a significant role in keeping the Chicago Bulls afloat despite the departure of 2-time All-Star Luol Deng. Playing behind Carlos Boozer, Gibson has emerged as an elite power forward off the bench. In eight starts this season due to injuries to the starting lineup, Taj Gibson posted averages of 19.3 pts, 9.8 reb, and 1.8 blk. As a potential Sixth Man of the Year candidate, Gibson would benefit from an increased role next season. With more upside than Boozer, it would make sense to move Gibson to the starting power forward spot. There have been reports of the Chicago Bulls using its amnesty clause on Boozer to chase Carmelo Anthony or Lance Stephenson in free agency or bring in European star, Nikola Mirotic whom they convey the rights to. In the potential departure of Boozer, Gibson would be able to exploit his potential and form a dangerous front court with defensive juggernaut, Joakim Noah.
Brandan Wright (Dallas Mavericks)
Minutes per game: 18.5
The Dallas Mavericks have played Samuel Dalembert beside Dirk Nowitzki for the majority of the year, occasionally opting to bring DeJuan Blair into the starting lineup. However, the major surprise has been backup PF/C Brandan Wright who is currently 11th in the NBA in PER (23.48). Missing the early part of the season because of a shoulder injury, Wright is a serviceable big man who has the ability to hit the mid-range jumper and should elevated ahead of Dalembert and Blair in the depth chart. On October 8 against the Bucks, Wright dropped
19 points in 19 minutes
. In spite of this, it remains to be seen what Wright can do with increased playing time.
Jordan Hill (Los Angeles Lakers)
Minutes per game: 19.5
Although Jordan Hill is averaging a career high in both points and rebounds, Mike D'Antoni has constantly preferred playing small-lineups (stretch-4) over big-lineups (traditional bigs). According to advanced statistics, the Lakers have actually been better offensively when utilizing a small-lineup which is not a surprise (quicker possessions, more 3-point attempts). Hill does not have the ability to knock down the three like Ryan Kelly or Wes Johnson, however he gives a team energy off the bench and is a beast on the offensive boards (2.8/game). When given the opportunity, Hill has capitalized with big performances like his
24 pts 17 reb outing
to lead LA over the Pistons. In the right system, Hill would strive mightily and be able to integrate his gift of offensive rebounding in longer spurts.
John Henson (Milwaukee Bucks)
Minutes per game: 27.6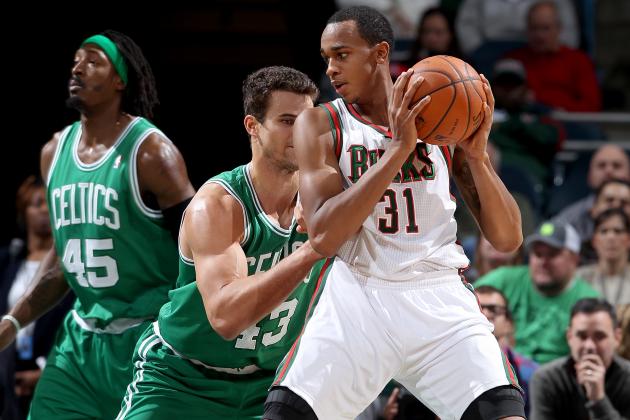 As a sophomore this year, John Henson has started 20 games in the 2013/14 season while scoring 11.4 points and pulling down 7.8 rebounds per game. He provides excellent rim protection and is in fifth in the NBA in blocks with 2.1 per game. Henson is still a young center who has not reached his ceiling yet. The team currently has a plethora of big man (Sanders, Ilyasova, Udoh, Pachulia, Middleton, Adrien) and could possibly make a trade in the offseason to give the youngster more minutes. The Bucks should consider featuring Henson in their offense more and giving him the green light to go out and not worry about making mistakes so he can continue to develop.
Enes Kanter (Utah Jazz)
Minutes per game: 25.4
When the Jazz allowed big men Paul Millsap and Al Jefferson to leave via free agency, it paved the way for Derrick Favors and Enes Kanter to form the frontcourt of the future. Drafted 3rd overall in 2011, Kanter is averaging 12.2 pts and 6.3 reb off the bench this season. Instead of a starting line-up with Favors and Kanter together, Ty Corbin has opt to go with Marvin Williams at the 4 and Derrick Favors at the 5. Big man with upside are usually long term projects and it will certainly take some time for Kanter to develop. Kanter would benefit from a larger role and with the Jazz in the lottery hunt, it will certainly not hurt to have him man the middle and receive more touches.