Team Leaders
Points: Jeff Green (16.9)
Rebounds: Jared Sullinger (8.1)
Assists: Rajon Rondo (9.8)
Steals: Rajon Rondo (1.3)
Blocks: Kris Humphries (0.9)
Team Statistics
Points: 96.2 (26th)
Rebounds: 42.5 (18th)
Assists: 21.0 (22nd)
Points Allowed: 100.7 (13th)
Depth Chart
PG: Rajon Rondo, Phil Pressey
SG: Avery Bradley, Jerryd Bayless, Chris Babb, Keith Bogans
SF: Jeff Green, Chris Johnson, Gerald Wallace
PF: Brandon Bass, Jared Sullinger
C: Kelly Olynyk, Kris Humphries, Vitor Faverani, Joel Anthony
Financial Breakdown
Under Contract: Chris Babb ($816,482), Brandon Bass ($6,900,000), Keith Bogans ($5,285,838), Vitor Faverani ($2,090,000), Jeff Green ($9,200,000), Chris Johnson ($915,243), Kelly Olynyk ($2,075,760), Phil Pressey ($816,482), Rajon Rondo ($12,909,090), Jared Sullinger ($1,424,520), Gerald Wallace ($10,105,855)
Free Agents: Joel Anthony (Player Option), Jerryd Bayless (Unrestricted), Avery Bradley (Restricted), Kris Humphries (Unrestricted)
Projected Cap Space: Approximately $10.7 million
Draft Picks
First Round: 6th overall, 17th overall (From Brooklyn)
Second Round: None
Team Needs
Primary Scorer
The departure of Paul Pierce opened up the door for Jeff Green to blossom into the C's primary scoring option this season. Green posted a team-leading 16.9 ppg, but lacked consistency for the majority of the season. There were stretches of the season when Green would put up 20 pts + and follow that up with sub 10 pts performances. Down the stretch, the Celtics were unable to find the go-to scorer during crunch time. With Rajon Rondo as the primary ball-handler, Boston must address the need of a scorer to paired up with one of the best past-first point guards in the association.
Interior Presence
This year, the Celtics were missing a defensive anchor after trading away KG. They have promising young big men in Jared Sullinger and Kelly Olynyk, but none fit the mold of an inside presence who is a game-changing defensive player. Sully is a versatile power forward who can rebound and play inside while Olynyk is a capable stretch forward/center who can shoot from past the arc. Adding a defensive-minded center would certainly provide the Celtics with a formidable front court rotation.
Keepers & Draft/Free Agent/Trade Targets
Avery Bradley
Bradley broke out in 2012 when he moved ahead of Ray Allen in the depth chart and into the starting lineup. Although an undersized shooting guard, Bradley is a tenacious defender who is also capable of playing a bit of point guard. Bradley averaged a career high 14.9 ppg this year and shot the ball well in the latter end of the season. The Celtics were unable to reach a contract extension with him last fall (reportedly 4yr $24 million offer), however, if the price is in a reasonable range, look for the C's to match an offer sheet and retain their budding guard.
Kris Humphries
In the blockbuster Paul Pierce and Kevin Garnett trade, the Celtics netted Kris Humphries, MarShon Brooks, Gerald Wallace, Keith Bogans, and a plethora of draft picks. Undoubtedly, Humphries has been the most productive of the bunch and has even earned positive compliments from GM Danny Ainge. Hump averaged 8.4 pts and 5.9 reb in slightly under 20 minutes per game with a 18.3 PER. While he is certainly not worth $12 million a year, bringing him back as a big men off the bench for the Mid-Level Exception would be ideal moving forward.
Dante Exum Dante Exum is projected to be selected in the top 5 in most mock drafts, but if he falls to number 6, he would make an excellent backcourt mate with Rondo. The 6'6" combo guard is one of the most intriguing prospects of the 2014 draft class with insane athleticism and top-notch quickness. He performed well at the NBA Draft Combine and draws comparisons to a Michael Carter-Williams - Penny Hardaway hybrid type of player. Naturally, if the Celtics decide to trade Rondo, Exum would make a nice option as the point guard of the future.
Marcus Smart
While Exum may not be available for the Celtics, Smart is certainly a viable choice at the 6th slot. A tantalizing prospect at the guard position; Smart has an insane 6'3'' body frame with a 6'9" wing span and generated buzz at the Combine by hitting 19 bench reps of 185 pounds, tied for 3rd best this year and one of the best among pgs historically. His lane agility time of 10.82 seconds was also faster than John Wall (10.84 seconds), Russell Westbrook (10.98 seconds) and Chris Paul (11.09 seconds). His decision making and shooting still need some work, however Smart's tenacity and defensive energy will bode well with Rondo's, creating a nightmare for opposing guards.
Gordon Hayward
Say the Celtics decline to resign Avery Bradley, Hayward would be an interesting replacement. As a 6'8" swingman, Gordon Hayward has the tools to play both shooting guard and small forward. He is a low key personality with a good catch-and-shoot game who plays well off-the-ball. Thus, his low-usage rate would fit well right into Brad Stevens offensive system. A reunion with the former Butler coach would also make the transition to green seamless. With Rondo at the helm, Hayward would get good looks without the need to create for himself. At the right price, Gordon Hayward is a practical target.
Paul Pierce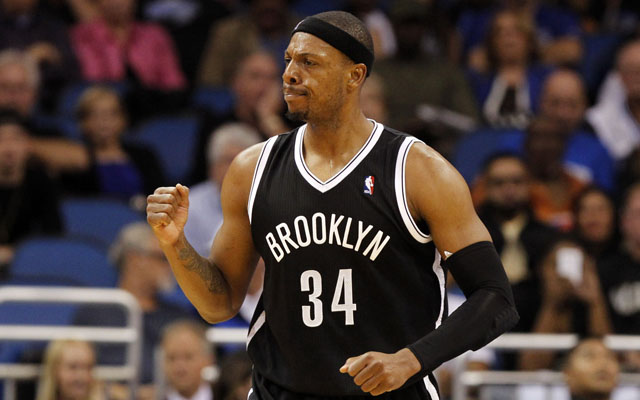 If the Celtics are able to build a playoff team this summer, a familiar face may return to finish off his career. At the twilight of his career, Pierce would be a useful leader/veteran presence and secondary scorer for a young Celtics squad. He has lost his step in the past years, but remains a player who knows what it takes to reach The NBA Finals. While many factors such as money and championship aspirations will influence Pierce's free agent decision, his heart will always be in Boston and a final return is definitely appealing.
Lance Stephenson
Stephenson will be an unrestricted free agent this summer and although Indiana has every intent to keep him the next couple of years, Boston should make a bid for him. "Born Ready" is a blue-collar type of player who can play multiple positions, rebounds well, and brings hustle and defensive energy. Taking over Danny Granger's minutes and role have resulted to career highs across the board for Stephenson. Stephenson's fiery attitude may be a questionable fit in the locker room but there is no doubt that the Celtics could certainly use another versatile playmaker who plays hard-nose smash-mouth basketball.
Omer Asik
The Celtics lacked an interior presence this season and should consider trading for a big man in the middle this summer. Enter Omer Asik who has been the subject of trade rumours since the signing of Dwight Howard. Asik is available for the right price and a 1st rounder and other pieces should be able to get a deal done. Adding Asik would be good gamble for the C's as his contract ($15 million "poison pill") expires after the 2014-15 season allowing the Celtics to still chase top names in the 2015 free agent class. Asik would dramatically improve the defense as he is good at disrupting low post position and denying entry of the ball. Offensively, Asik won't stretch the floor but he can run the pick-and-roll with ease. In the dire need of a center, Omer Asik is a solid short or long-term option who also gives Boston the ability to maintain financial flexibility for the future.
Kevin Love
It is no secret that Kevin Love is not satisfied with the current situation in Minnesota. In Love's six year career, he has never made it into the post-season and with his impending free agency, the situation does not get any better. As a result, the Timberwolves front office is finally fielding calls for Love and the Celtics may have the opportunity to offer the most enticing package. With a stockpile of picks, young assets such as Olynyk and Sullinger, and the non-guaranteed contracts of Bogans, Babb, Johnson, and Pressey, Boston could pair the three-time All-Star with Rajon Rondo. Kevin Love is by no means a defensive player, but he would supply the scoring in which the Celtics desperately need as well as rebounds and floor-spacing. While there is a risk in giving up so much in a trade for Love, the Celtics' culture and tradition would attract Kevin Love to stay long-term. If Boston ends up losing both Rondo and Love to free agency (which would be unlikely), they would gain an additional $27 million in cap space. As a result, this actually becomes a win-win scenario for Boston.