2nd in Central Division
4th in Eastern Conference
48-34 W-L Record
Team Leaders
Points: D.J. Augustin (14.9)
Rebounds: Joakim Noah (11.3)
Assists: Joakim Noah (5.4)
Steals: Jimmy Butler (1.9)
Blocks: Joakim Noah (1.5)
Team Statistics
Points Allowed: 91.8 (1st)
Depth Chart
PG: Kirk Hinrich, D.J. Augustin, Mike James, Derrick Rose (IL)
SG: Jimmy Butler, Ronnie Brewer, Jimmer Fredette
SF: Mike Dunleavy, Tony Snell
PF: Carlos Boozer, Taj Gibson, Lou Amundson
C: Joakim Noah, Nazr Mohammed, Greg Smith
Financial Breakdown
Under Contract: Lou Amundson ($1,310,286), Carlos Boozer ($16,800,000), Ronnie Brewer ($1,310,286), Jimmy Butler ($2,008,748), Mike Dunleavy ($3,326,235), Taj Gibson ($8,000,000), Mike James ($1,448,490), Joakim Noah ($12,200,000), Derrick Rose ($18,862,876), Greg Smith ($948,163), Tony Snell ($1,472,400)
Free Agents: D.J. Augustin (Unrestricted), Jimmer Fredette (Unrestricted) , Kirk Hinrich (Unrestricted), Nazr Mohammed (Unrestricted)
Projected Cap Space: None (Approximately $4.4 million over salary cap)
Draft Picks
First Round: 16th overall (From Charlotte), 19th overall
Second Round: 49th overall
Team Needs
Scoring/Outside Shooting
The Bulls led the league in points allowed, but finished dead last in points. In simpler words, Chicago's defense was top notch while their offense was a disaster. With Tom Thibodeau at the helm, the Bulls have organically produced and developed players who play good team defense. The one major need that must be addressed this offseason is adding a scorer who can stretch the floor and create matchup problems. With no cap space this summer, the Bulls are mainly limited to the draft or through a trade.
Backup Big Man
This year, Taj Gibson assumed a larger role and looks primed to move into the starting lineup for next season. With that being said, Chicago's backup big man rotation will be extremely thin as Nazr Mohammed will be a free agent, Lou Amundson is on a non-guaranteed contract (could be used as trade bait), and Carlos Boozer is a potential amnesty candidate. Chicago's system is centered upon defense and they will need a backup rim protective big to give Joakim Noah a breather.
Keepers & Draft/Free Agent/Trade Targets
D.J. Augustin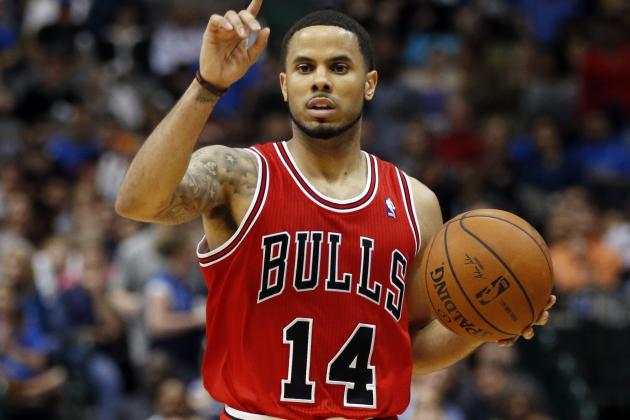 After being waived by the Toronto Raptors, Augustin was picked up by the Chicago Bulls. The absence of Derrick Rose and injuries to Kirk Hinrich paved the way for Augustin to emerge as an unexpected surprise pacing the Bulls at 14.9 points per game. With Rose returning next season and Hinrich also a free agent, the Bulls should prioritize resigning Augustin who provided excellent offensive production off the bench. As a lethal three point shooter, Augustin gives Chicago a distributor and scoring weapon. Chicago should be able to afford the 6-year guard with the Mid-Level Exception.
Nik Stauskas
Stauskas, a sophomore shooting guard from Michigan improved greatly from his freshmen season. One of the best shooters in the nation, Stauskas averaged 17.5 points per game on 44% shooting from downtown. He has great basketball IQ, plays solid defense and can score in a variety of ways. His offensive game is very Klay Thompson-esque. For a team in need of scoring, Stauskas would be an excellent addition for the Bulls, sliding in at the off guard spot.

James Young
If the Bulls are looking for a pure scorer, they should look no further than James Young. Young, a freshmen shooting guard from Kentucky averaged 14.3 points per game for the Wildcats. His shooting stroke, size and age (turning 19 in August) will attract NBA suitors, though he must improve his decision making and shooting efficiency at the next level. The Bulls could use a scoring guard beside Derrick Rose and Young would definitely be an intriguing fit.
Patty Mills
Patty Mills performed exceptionally well during The NBA Finals and he will certainly be due for a huge raise this summer. Per 36 mins, he averaged 19.5 points, 3.5 assists and 1.6 steals during the regular season. In the playoffs, Mills was on fire from downtown and served as a scoring punch off the bench. If the Bulls cannot retain D.J. Augustin, Mills would be a viable option who could be a "Nate Robinson" type of player for Chicago.


Emeka Okafor
Chicago has not had true frontcourt depth since they lost Omer Asik. Okafor, who is coming off a neck injury will not be making as much as he did this year ($14.5 million) and may be had for the vet minimum, depending on the league-wide interest. The 2005 Rookie of the Year has career averages of 12 points and 10 rebounds and that alone should intrigue the Bulls. Okafor would give Chicago rebounding and an interior presence while allowing Taj Gibson to play more of his minutes at power forward.
Greg Stiemsma
Another big man who can provide rim protection and shot blocking is Greg Stiemsma. Stiemsma was released by the Pelicans late-season and had a sub-par statistical season. If he can display similar potential in his first NBA season, the Bulls would be getting a steal for a cheap option at backup center at the minimum contract.


Arron Afflalo
The Bulls would love to add a marquee star in the likes of Carmelo Anthony or Kevin Love. While the possibility of trading for a player of Anthony or Love's caliber is low, one of the more attainable players on the trade market is Arron Afflalo, who is a good fit for the Bulls system. Afflalo had a career year with the Orlando Magic averaging 18.2 points per game. His on-ball defense is above average and he is an excellent shooter from distance. The Magic are in the midst of a rebuild and it would make sense to capitalize on Afflalo's trade value while it is at its peak. Meanwhile, Afflalo is the perfect running mate for Derrick Rose. He does not need the ball in his hands to be effective and would also be able to guard opposing point guards and take pressure off of Rose. Chicago is a piece away from moving into the upper echelon of the Eastern Conference and Afflalo may be the missing piece.