5th in Atlantic Division
14th in Eastern Conference
19-63 W-L Record
Team Leaders
Points: Thaddeus Young (17.9)
Rebounds: Michael Carter-Williams (6.2)
Assists: Michael Carter-Williams (6.3)
Steals: Thaddeus Young (2.1)
Blocks: Jarvis Varnado (1.3)
Team Statistics
Points: 99.5 (19th)
Rebounds: 42.7 (15th)
Assists: 21.8 (15th)
Points Allowed: 109.9 (30th)
Depth Chart
PG: Michael Carter-Williams, Casper Ware, Adonis Thomas
SG: James Anderson, Tony Wroten, Elliot Williams
SF: Hollis Thompson, Jason Richardson
PF: Thaddeus Young, Arnett Moultrie, Nerlens Noel
C: Henry Sims, Byron Mullens, Brandon Davies, Jarvis Varnado
Financial Breakdown
Under Contract: James Anderson ($981,084), Michael Carter-Williams ($2,300,040), Brandon Davies ($816,482), Arnett Moultrie ($1,136,160), Nerlens Noel ($3,315,120), Jason Richardson ($6,601,125), Henry Sims ($915,243), Hollis Thompson ($816,482), Jarvis Varnado ($915,243), Elliot Williams ($981,084), Tony Wroten ($1,210,080), Thaddeus Young ($9,410,869)
Free Agents: Byron Mullens (Player Option), Adonis Thomas (Restricted), Casper Ware (Unrestricted)
Projected Cap Space: Approximately $33.9 million
Draft Picks
First Round: 3rd overall, 10th overall (From New Orleans)
Second Round: 32nd overall, 39th overall (From Cleveland), 47th overall (From Brooklyn via Dallas & Boston), 52nd overall (From Memphis via Cleveland), 54th overall (From Houston via Milwaukee)
Team Needs
Star Power/Talent
The 76ers went into a full-blown rebuild when they traded away All-Star point guard Jrue Holiday for Nerlens Noel and the Pelicans 2014 1st round pick, packaged Evan Turner to Indiana and Spencer Hawes to Cleveland mid-season, and signed several D-League players on 10-day contracts for the rest of the season. With an abundance of assets such as multiple draft picks and non-guaranteed contracts, the Sixers will look to use them to acquire young talent through the draft or in trades. Apart from Carter-Williams and Noel, the majority of the current roster may not be part of the team's future. The team will probably receive calls for power forward Thaddeus Young and will need to evaluate the best deal they can get for him. The squad is definitely a few years away from playoff contention and an influx of talent and star power is certainly needed.
Depth
With a bench mostly made of D-League players and young prospects, Philadelphia will need to retool its roster by adding wing defenders, athletic bigs, playmaking guards, etc. The 76ers have to fill essentially every position especially adding a two-way forward and complementary guard for MCW. Having given up a league worst 109.9 points per game this season, it is crucial for the Sixers to add a defensive anchor in the middle and also solid swingmen who can defend multiple positions. A scorer off the bench would be ideal as well.
Keepers & Draft/Free Agent/Trade Targets
Jabari Parker
Parker is probably the most NBA-ready of all the prospects. He is a natural scorer and possesses high basketball IQ. As a freshmen at Duke, Parker led his team in scoring (19.1 pts) and rebounding (8.7 reb) per game. The Sixers desperately need a go-to-scorer and Parker can be just that. With a healthy Nerlens Noel next season who can cover up Parker's defensive short comings, Parker is the safest pick for Philly, one who is expected to contribute like MCW right away.
Andrew Wiggins
If Parker is off the board when the Sixers are on the clock, Wiggins would not be a bad consolation prize. The Kansas product would indeed be a great fit on a young team as an athletic two-way player with extreme upside. Philadelphia finished 1st in the league in pace this season which would play well with Wiggins' motor and strengths as a dynamic open-court athlete. In Kansas, Wiggins did not have freedom to create as often as he would like within the offensive system. However, with Brett Brown's free-flowing and uptempo structure, Wiggins will have no problem getting buckets.
Gary Harris
Harris may be the most well-rounded shooting guard in the draft. As a sophomore this season at Michigan State, Harris paced the team in points (16.7) and lead the charge on defense (1.8 steals). The 6'4" shooting guard hones an arsenal of offensive moves and shoots the ball deep pretty well. His above average defense compensates for his height disadvantage and his ability to play off the ball would complement Michael Carter-Williams well. As a 3-and-D player, he would provide stability at the 2-guard position in the long run.
Dario Saric
Another option to fill up the frontcourt would be to take a flier in Dario Saric. Saric, a 6'10" forward from Lithuania has a diverse offensive game and can stretch the floor well with his 3-point range. As a natural scorer and solid rebounder, Saric is the definition of the stretch four. He is too big at the small forward position and lacks the lateral quickness to guard the 3 spot. Thus, slotting him at power forward gives the Sixers a mirror to Noel's game which is predicated on protecting the rim, rebounding, and banging down low. If he is available at number 10, Dario Saric would be a good gamble for the 76ers.
Thanasis Antekounmpo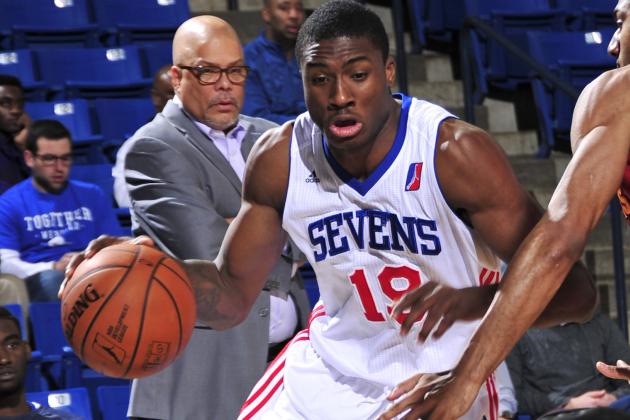 With three second round picks, the Sixers can afford to develop a player or two or "draft and stash" a prospect overseas. Thanasis Antekounmpo (older brother of Giannis Antekounmpo the "Greek Freak"), a forward for the Delaware 87ers displayed immense potential this year in the NBA D-League and should be on Philly's radar. Blessed with blazing athleticism and speed, the older Antekoumpo is dangerous in transition and plays great on-ball defense. However, his offensive skills are still incredibly raw and he will need to certainly develop some sort of mid-range game to have an impact in the NBA. If the Sixers decide to take him with one of their second rounders, do not expect the "other Greek Freak" to play big minutes right off the bat.
Kent Bazemore
While the Sixers will have a pool of cap space this summer, it would make sense to avoid spending big bucks on high-tier free agents but rather target mid-level players until the team is ready to make a playoff run. One such mid-level player is Kent Bazemore who is more known for his bench celebrations but certainly showed he is capable of playing rotational minutes when he was traded to the Los Angeles Lakers. The undrafted guard out of Old Dominion is an athletic swingman who plays good defense and developed an improve long-range shot. He would be an excellent fit to Philadelphia's uptempo offense and provide energy off the bench. While Bazemore is due to a raise, his price will not be too high for the Sixers as he only made the minimum this year.
Xavier Henry
As a former lottery pick, Henry has played on three different teams in his four year career. In his latest stop with the Lakers, Henry posted career highs across the board and proved he still had untapped potential. The 76ers could use a scoring guard off the bench and Henry fits into their offensive schemes. Henry is a good attacker off the dribble who can get to the rim and draw fouls, but needs to work on his shooting. Making less than a million this season, Henry will definitely command a bigger contract and Philly could offer something in the lines of the Mid-Level Exception while preserving their cap space for the future.
Thabo Sefolosha
With a need for a defensive identity, the Sixers could look to add Sefolosha this summer. Near the end of the season, Scott Brooks opted to use Caron Butler instead of Sefolosha in the Thunder rotation. A change of scenery would greatly benefit Sefolosha's career. The 76ers have a huge need for a defensive wing who can take on the opposing team's best player. With upwards of $30 million in cap space, Philadelphia can offer Sefolosha more money than the Thunder. Provided the multi-year deal is less than three years, the Sixers would still have clear books to chase marquee superstars in 2015 & 2016 when they are ready to contend.