3rd in Atlantic Division
9th in Eastern Conference
37-45 W-L Record
Team Leaders
Points: Carmelo Anthony (27.4)
Rebounds: Tyson Chandler (9.6)
Assists: Raymond Felton (5.6)
Steals: Iman Shumpert (1.2)
Blocks: Andrea Bargnani (1.2)
Team Statistics
Points: 98.6 (20th)
Rebounds: 40.3 (27th)
Assists: 20.0 (28th)
Points Allowed: 99.4 (8th)
Depth Chart
PG: Raymond Felton, Pablo Prigioni, Toure' Murry
SG: Iman Shumpert, J.R. Smith, Shannon Brown
SF: Carmelo Anthony, Tim Hardaway Jr.
PF: Amar'e Stoudemire, Kenyon Martin, Andrea Bargnani, Lamar Odom
C: Tyson Chandler, Jeremy Tyler, Cole Aldrich
Financial Breakdown
Under Contract: Shannon Brown ($1,310,286), Tyson Chandler ($14,596,887), Raymond Felton ($3,793,693), Tim Hardaway Jr. ($1,250,640), Lamar Odom ($1,448,490), Pablo Prigioni ($1,662,961), Iman Shumpert ($2,616,975), J.R. Smith ($5,982,375), Jeremy Tyler ($948,163)
Free Agents: Cole Aldrich (Unrestricted), Carmelo Anthony (Early Termination Option), Andrea Bargnani (Early Termination Option), Kenyon Martin (Unrestricted), Tour'e Murry (Qualifying Offer), Amar'e Stoudemire (Early Termination Option)
Projected Cap Space: None (Approximately $6.4 million over salary cap)
Draft Picks
First Round: None
Second Round: None
Team Needs
Point Guard
One of the reasons for the Knicks' struggles this season was due to the sub-par play of the point guard position. Undoubtedly the weakest position in their rotation, the Knicks struggled to generate any production from their floor generals (20.0 assists per game which ranked 28th in NBA). Starting point guard Raymond Felton was not able to get it done on a nightly basis after playing a major role in the Knicks 54-win season last year. Largely criticized for being "fat" and "out of shape", Felton had off-court issues in addition to on-court problems this season. Pablo Prigioni, an aging veteran with only 2 years of experience in the NBA was best-suited for a back-up role and Tour'e Murry had budding potential but lacked the experience to match up against the best guards in the association. While the Knicks do not necessarily need to add a scoring point guard to their roster, acquiring a serviceable playmaker should be at the top of the team agenda.
Defensive-Minded Big Man
Outside of Tyson Chandler, New York did not have a defensive big man who could protect the paint. The team was not great on defense, allowing 98.6 pts per game (20th). Although this was not the biggest problem in the Knicks downfall, there was no insurance behind Chandler if he went down with an injury. Jeremy Tyler and Cole Aldrich were not expected to play significant minutes in the rotation and were seen as projects rather than regular contributors. Adding another interior presence would provide sustainability for the second unit when Chandler rests or if the Knicks play a secondary small-ball lineup.
Keepers & Draft/Free Agent/Trade Targets
Carmelo Anthony
The biggest prize in this summer's free agency frenzy will be Carmelo Anthony. Even if LeBron and co. opt out of their current contracts, the likelihood of the Big 3 switching teams is incredibly low even if they fail to win a championship this season. Back in 2011, New York surrendered their entire starting lineup (with the exception of Stoudemire) and future draft picks to acquire Anthony mid-season. They have made the playoffs (not including 2014) since then but the supporting cast around Melo has regressed each season. Amar'e Stoudemire and Tyson Chandler cannot seem to stay healthy. Iman Shumpert had a disappointing year after showing so much potential in his rookie year. JR Smith, winner of the Sixth Man of the Year award in 2013 stumbled to build on to that success and we should not even get started with Raymond Felton. Contrary, Carmelo Anthony, who just turned 30 made big strides and raised his game this season averaging a career high in rebounds (8.1) and recording a career high and MSG record 62 points against the Bobcats. Keeping your franchise superstar is a no-brainer and while handing out the max contract to a player north of 30 years old is questionable (Melo has stated that he would be willing to take a pay-cut to add more talent), Anthony has shown that he is the player you can build your franchise around.
Tour'e Murry
Murry did not play many games this year and when he was give the chance, he would normally be on the floor during a blow-out game. As a 6'5" combo guard, Murry has a reputation as a solid defender. His long reach and quick feet give him the ability to crowd defenders, challenge shots, and step into passing lanes. Murry could certainly work on improving his shooting and playmaking skills as he still has room to grow as a player. Given the Knicks lack of depth at the point, it would be smart to lock up Murry for long-term development if the price is right.
Shabazz Napier
With two NCAA championships under his belt, Shabazz Napier is ready to make the leap to the next level in the NBA. A proven leader and steady playmaker, Napier lacks size and athleticism but compensates this by his ability to shoot off the dribble and come off screens. Napier has made big plays in his college career, endures adversity and plays with poise and maturity after staying four years in college. The Knicks could use an NBA-ready point guard in Napier, one who is not afraid of performing on the big stage.
Patric Young
Defense is one of Patric Young's best attributes and also something the Knicks need to address. As a slightly undersized power forward, Young uses his physical frame to make it difficult for his opponent to catch the ball in the post. Young has a good motor, great basketball IQ, and a lot of intangibles in terms of leadership and toughness. Projected as a second round pick, the Knicks could make an inquiry to a team that holds multiple late picks such as Philadelphia and Denver. Like Shabazz Napier, Patric Young has probably reached his ceiling, but more than ready to contribute to a playoff team.
Andrew Bynum
New York's current cap situation prevents a massive shopping spree this summer. However, one intriguing and possibly cheap option is to sign former All-Star Andrew Bynum. Bynum's value has diminished over the last few seasons since he was traded from the Lakers to the Sixers and he can be had at the veteran's minimum if there's minimal league interest. The big man's best campaign came in 2012 when he averaged a career high 18.7 points and 11.8 rebounds. At just 26 years old, it remains to be seen how much is still left in Bynum's tank and whether he can stay healthy through an entire season. In spite of this, given Phil Jackson's relationship with the former Laker center, it would be a nice low-risk high-reward move to make this offseason.
Darren Collison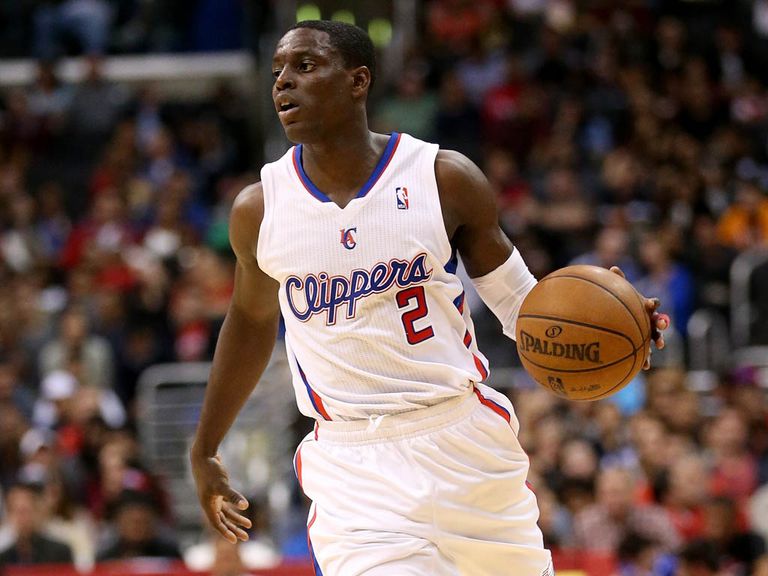 The Knicks and Clippers talked about a trade revolving around Darren Collison during the trade deadline but talks fell through in the end. Since Collison has opted out of his current contract to become an unrestricted free agent, the Knicks should consider reigniting their pursuit of the backup point guard. Collison has bounced around the league in his four year career with stops at New Orleans, Indiana, and Dallas before signing with Los Angeles last summer. This season, per 36 minutes, Collison average 15.9 pts, 5.2 ast, and 3.3 reb. While his assists may seem slightly low, it should be noted that Collison played a majority of his minutes with one of the best distributing point guards in Chris Paul. Collison, one of the top backup point guards in the association is capable of starting on most teams The Knicks have their Mid-Level Exception and it would be ideal to gauge the interest of Darren Collison and pitch him with a starting-role. His speed and willingness to pass would definitely be a great fit in the triangle offense.
Jimmer Fredette
As a college superstar, Jimmer Fredette has not been able to translate his game to the NBA level so far in his professional career. Buried on the bench in Sacramento, Jimmer never played meaningful minutes in the Kings season-long rotation. He was bought out and later signed with the Chicago Bulls for the remainder of the season. As a dead-eye shooter, Fredette would give the Knicks another offensive weapon. The knock on Jimmer is his ability to defend other guards and the position he is most-suited to play. He is not much of a playmaker and not long enough to matchup against shooting guards. However, the Knicks should not pass up the chance to sign a flier in Jimmer Fredette. While his stock is at its lowest, signing Jimmer would certainly inject some life into the franchise.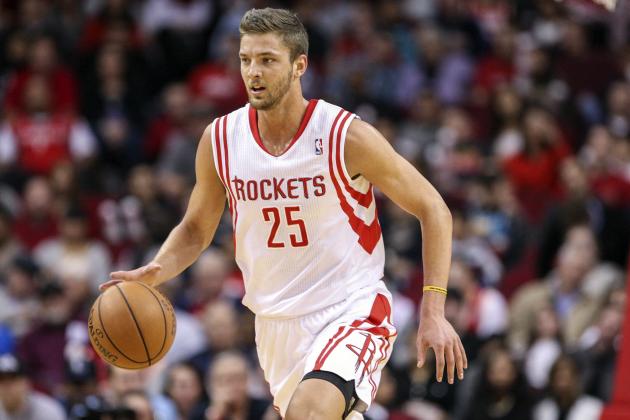 Jeremy Lin/Omer Asik/Terrence Jones/Chandler Parsons
If Carmelo Anthony is bound to leave New York, the best possible sign-and-trade package would come from a combination of Jeremy Lin, Omer Asik, Terrence Jones, Chandler Parsons and/or picks. The Knicks desperately need a point guard and Linsanity would be welcomed once again in New York. Omer Asik would provide valuable backup minutes for Tyson Chandler as well as insurance in case of an injury. Since both Lin and Asik are expiring contracts, they can easily become cap space after one year if things do not work out. In Terrence Jones and Chandler Parsons, the Knicks would be getting two young building blocks for the future. Jones is a versatile power forward who rebounds and plays well both inside and outside while Parsons is a fantastic team player who does not need the ball to be effective. The future picks would also be beneficial for a team who has traded many of their own. While it would be difficult to lose your franchise player, the Knicks have the leverage to negotiate a sign-and-trade with Houston (if Anthony signs with the Rockets) and acquire valuable assets in return.