4th in Central Division
11th in Eastern Conference
29-53 W-L Record
Team Leaders
Points: Josh Smith (16.4)
Rebounds: Andre Drummond (13.2)
Assists: Brandon Jennings (7.6)
Steals: Josh Smith (1.4)
Blocks: Andre Drummond (1.6)
Team Statistics
Points: 101.1 (14th)
Rebounds: 45.4 (3rd)
Assists: 20.9 (24th)
Points Allowed: 104.7 (27th)
Depth Chart
PG: Brandon Jennings, Will Bynum, Peyton Siva
SG: Kyle Singler, Rodney Stuckey, Kentavious Caldwell-Pope, Chauncey Billups
SF: Josh Smith, Luigi Datome
PF: Greg Monroe, Jonas Jerebko, Charlie Villanueva, Tony Mitchell
C: Andre Drummond, Josh Harrellson
Financial Breakdown
Under Contract: Will Bynum ($2,915,908), Kentavious Caldwell-Pope ($2,772,480), Luigi Datome ($1,750,000), Andre Drummond ($2,568,360), Josh Harrellson ($948,163), Brandon Jennings ($8,000,000), Tony Mitchell ($816,482), Kyle Singler ($1,090,000), Peyton Siva ($816,482), Josh Smith ($13,500,000)
Free Agents: Chauncey Billups (Team Option), Jonas Jerebko (Player Option), Greg Monroe (Restricted), Rodney Stuckey (Unrestricted), Charlie Villanueva (Unrestricted)
Projected Cap Space: Approximately $28.0 million
Draft Picks
First Round: None
Second Round: 38th overall
Team Needs
3-Point Shooting/Floor Spacers
The Pistons finished 29th in 3PT% this season and part of the cause was due to the fact that Josh Smith was playing out of his natural position. With Smith at small forward, the team lacked spacing and bad shots were forced up by guys like Smith and Jennings who both shot poor percentages from the field this year. The Pistons do not have a catch-and-shoot type of player, something they should look to invest in. Andre Drummond, only 20 years old is the building block of the future. With an emerging and dominant center and a first class coach in Stan Van Gundy, Detroit needs to surround Drummond with shooters who can space the floor and knock down the three ball in double-team situations. Van Gundy utilized this system of "4 in 1 out" in his Orlando days and it proved to be effective. He will look to implement something similar and turn the Pistons into playoff contenders.
Wing Depth
With a small forward rotation of Josh Smith, Kyle Singler, and Luigi Datome, the Pistons must look to add more bodies as they are weak on the wing. Smith is inefficient playing the three spot while Singler and Datome are utility players as opposed to starter material. Ideally, adding a 3-and-D rotational player would help with the floor spacing and improve the perimeter offense. With a good chunk of cap room and an early 2nd round pick, Detroit should address this need before next season.
Keepers & Draft/Free Agent/Trade Targets
Greg Monroe
Resigning Greg Monroe will be the top priority for the Pistons but they must find a taker for Josh Smith's albatross contract to create room for Drummond's extension down the road. It would not be an ideal move to keep both Monroe and Smith long term as they are both capable starters which would create a logjam at PF. Monroe is an underrated big man who can score and rebound and he is only getting better. The addition of Josh Smith may have stunted his growth and the team must decide who is a better fit for the roster. While Monroe should be retained, the decision will hinge on the Piston's ability to trade Smith this offseason.
Jabari Brown
With only a second round pick in this year's draft, the Pistons will need to find a diamond in the rough. With a need for perimeter shooting, Detroit should target Jabari Brown from Missouri. The 6'5" shooting guard averaged just under 20 points per game while shooting 41% from downtown. Brown is an excellent spot-up shooter who would complement Jennings well. He is not great at generating his own shot and creating offense for others, but with other playmakers on the roster, it should not be a problem.
Cory Jefferson
In his tenure with the Magic, Stan Van Gundy paired stretch fours (Rashard Lewis, Ryan Anderson) with Dwight Howard to stretch the defense and it proved to be effective. Needing a forward who can shoot, the Pistons should look at Cory Jefferson. The power forward out of Baylor shot a respectable 37% from deep and has a solid midrange game. His athleticism and motor are also key attributes that should intrigue Detroit. With Drummond locked at center, a stretch four in Jefferson would be a potential option.
Mario Chalmers
If Detroit is looking for another playmaking guard, enter Mario Chalmers. Chalmers is often overlooked on a Miami Heat roster filled with attention centered around the Big 3. He has been an asset during Miami's title run although this year's playoffs, Chalmers was not as effective. With a depreciating stock, the Pistons should look to add the free agent point guard. Chalmers averaged 4.9 assists this season despite not being the primary ball handler. In addition, he is a threat from three point territory and would greatly help improve floor spacing.
Mike Miller
Another three point marksman who could contribute for the Pistons is Mike Miller. Miller shot 46% from downtown this season with the Grizzlies. He is a solid defender who has championship experience, winning two titles with the Miami Heat. For the Pistons, he would not be an expensive free agent option. Apart from stretching the floor, Miller would provide veteran experience.
Ryan Anderson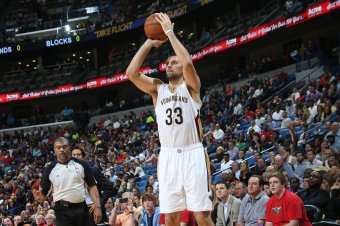 Anderson would be an excellent fit for the Pistons who lack shooting big man beside Drummond. Having played for Stan Van Gundy previously in Orlando, Anderson is one of the better stretch fours in the league. It will definitely be hard for Detroit to pry Anderson from the Pelicans unless they can take on Eric Gordon's contract. However, this would be a bold move if the Pistons believe they can be playoff contenders as early as next season.
Wilson Chandler The Nuggets do not have much financial flexibility until the 2015-16 season. As a result, many of the players may be potentially on the trade market for the right price. For the Pistons, they should inquire about Wilson Chandler who brings a 3-and-D skillset to the table. With much needed depth at the wing, trading for Chandler would give them a versatile forward who could guard four different positions. His ability to provide floor spacing and his athleticism would also be welcomed.