It is no secret that Kobe Bryant's championship window is closing as he heads into possibly the last contract of his career. With that in mind, the LA Lakers front office must decide this offseason whether drafting a young player and rebuilding through the draft is the direction to go. On the other hand, LA also has the luxury to be loaded with cap space this summer with only Kobe Bryant, Steve Nash, and Robert Sacre under contract for the 2014-15 season. As a result, reloading via free agency is an option to consider.
One player who may become available is neither a draft prospect nor a free agent this summer. Although he has never publicly stated his desire to leave his team, multiple sources believe he will not resign once he becomes a free agent. He is Kevin Love, power forward of the Minnesota Timberwolves. Kevin Love representing the Los Angeles Lakers seems like a destined fit and an opportunity the Lakers must pursue. Firstly, as a former UCLA Bruin, KLove would be returning home in addition to playing for the franchise his father Stan also played for. Love, only 25 would provide the Lakers with a secondary star and take some of the scoring load off of Kobe Bryant next season. The Lakers will have several options come summer time and trading away their 2014 lottery pick for Love may be the best decision for the franchise moving forward.
There may not be a franchise changing player in the 2014 NBA Draft
Joel Embiid, Andrew Wiggins, Jabari Parker (
might return to Duke for sophomore year
), Dante Exum among others may be available in this summer's highly anticipated draft. The huge question is whether these young studs will be able to adjust quickly to the NBA and make an immediate impact from day one. Embiid, for example is considered a red flag because of his recent back injury causing him to sit out the NCAA March Madness Tournament. As a young center, he has a relatively high ceiling, but the potential may be reached through a couple of seasons so do not be surprised to see Embiid be an ongoing project at first. Wiggins and Parker are insane athletes and have displayed a huge repertoire of nice moves in their freshmen year. On the other hand, when the stakes have been high, they have not performed as well and failed to lead their team to the next round. We can go on analyzing all the potential draftees and some may consider the 2014 draft to be over-hyped as landing a surefire franchise player is questionable. The talent in this draft is undeniably there, however it remains to be seen if any of these prospects have superstar status written on them.
Acquiring Love puts Lakers back in win-now mode
As Kobe Bryant's career dawns, Lakers know they will need a successor soon if not now. Enter Kevin Love. A consistent double-double machine, Love can score from everywhere on the floor and grab a ton of boards every night. Sending away a lottery pick for the All-Star power forward would definitely send a win-now message to the rest of the league and the Lakers should do just that. LA has the benefit of being a big-market team with the ability to dive into the luxury tax year after year. In addition, we all know Laker fans are impatient about rebuilding, expecting the team to be a contender every season. Taking this into consideration, Lakers' TV ratings are down nearly 50% from last season and adding Love would definitely increase viewership for next year. Love is a unrestricted free agent in the summer of 2015 and there is no guarantee that he resigns with the Lakers if traded from Minny. However, Rajon Rondo, Paul Millsap, Brook Lopez, Roy Hibbert, Marc Gasol among others will be available in 2015 and Lakers could potentially lure one or more of these impact players depending on how they address their cap situation this summer. To simply put it, LA must embrace winning now rather than build for the future in Kobe's last chapter of his career.


Lakers could use acquisition of Love to attract other elite free agents to LA
Adding Kevin Love will take LA out of the Carmelo Anthony sweepstakes this summer if they choose to enter. Despite losing out on Melo, there are still many second-tier free agents that are available and within the Lakers price tag. There are two scenarios that can allow the Lakers to maximize on cap space this summer. First renounce everyone but the young guys - you'll get cap holds on their roster spots regardless, so you keep the talent. The next thing is to decide whether you use the stretch provision on Steve Nash and carry the cap hit for the next three years. Per
Steve Kyler of Basketball Insiders
, here are the numbers:
Love is slated to earn $15,719,062 next season so if you keep Nash that's $54.11 million, against what could be a $62 million cap - so that's $7.88 million in usable space. If you stretch Nash that's $47.64 million, against what could be a $62 million cap - so that's $14.35 million in usable cap space.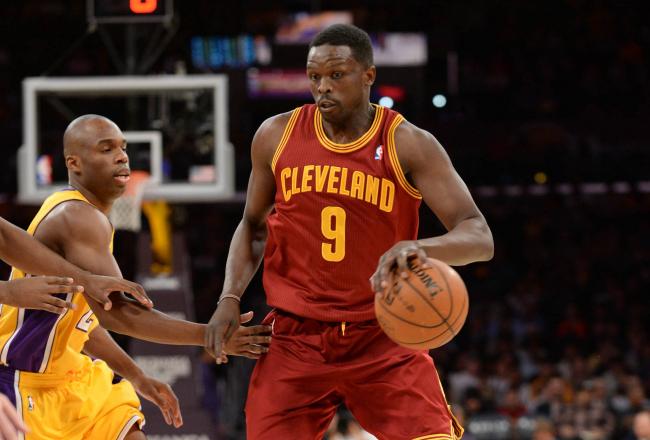 Lakers could use the acquisition of Love to attract other elite free agents to Hollywood. They could attempt to pry restricted free agents Eric Bledsoe (PG), Isaiah Thomas (PG) or Greg Monroe (PF) away by overpaying them. Another option is to sign Luol Deng (SF) who is reported unhappy with the situation in Cleveland or find a way to obtain Lance Stephenson (SG/SF) or Kyle Lowry (PG) who are also unrestricted free agents. With the Lakers' current state of losing, they do not appear like a great destination, but factor in Kevin Love, a top 10 player in the association, LA can persuade other young-and-coming players to come to Tinseltown.